Strategy
INNOVATIVE INVESTING STRATEGIES
Fremont Realty Capital prides itself on its innovative approach to identifying and investing in superior investment opportunities, and leveraging decades of experience. We are expert investors in non-traditional real estate sectors such as self-storage, senior housing, student housing and cold storage, as well as selected growth-oriented or value-enhancement investments in traditional real estate sectors. We are leading strategic investors in the storage and senior living sectors with realized investments representing over 275 properties in 11 countries over 19 years. Fremont Realty Capital's current storage and senior living portfolios include over 90 properties spanning the U.S. and 4 European nations.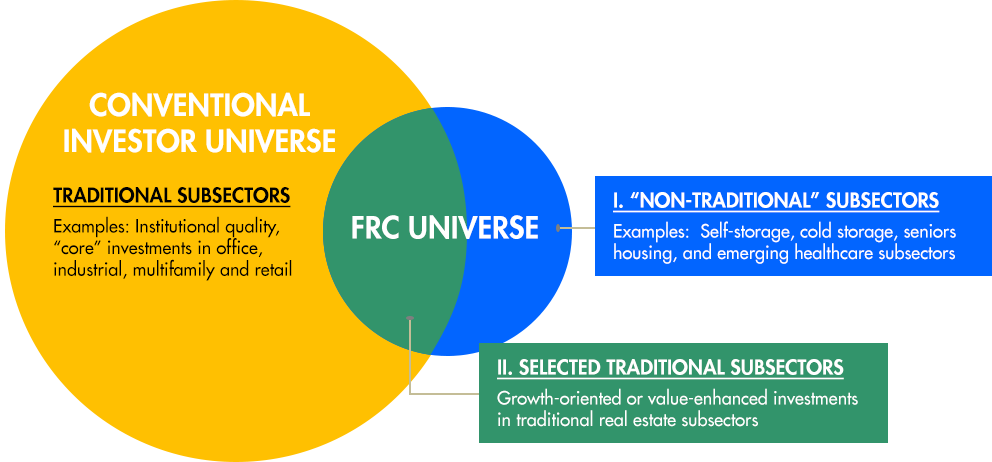 INVESTMENT CRITERIA
Fremont Realty Capital invests with leading operating partners who possess excellent track records, well defined business plans and a high degree of integrity. We structure our investments to align with their long term business goals to maximize success. We are true partners, offering significant value beyond our financial resources. Fremont Realty Capital is a creative and nimble capital partner, able to meet the challenges of complicated transactions and short timelines. We are always guided by a commitment to integrity and fair dealing.
Fremont Realty Capital's investment criteria typically targets equity investments of $20 - $100 million and enterprise-level ownership positions of 50-80%. We prefer investments with long term horizons of 10 years or more and make investments domestically and abroad.
We provide capital for:
Real estate operating platforms
Ownership recapitalizations
Business growth
Development projects
Opportunistic acquisitions
Special situations