BF Global Team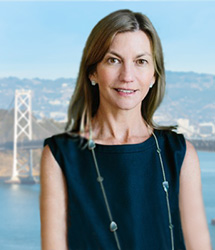 Kiele Neas

Managing Director
Kiele Neas is a Managing Director of BF Global with responsibilities spanning all aspects of BF Global's investment strategy, asset allocation, manager selection and risk management activity.
Prior to joining Fremont Group, Kiele was a Managing Director at the UCSF Foundation Investment Company, working across asset classes, with responsibility for sourcing, diligence, and the execution of investments. Before joining UCSF, Kiele spent seventeen years at Goldman Sachs as a Managing Director and senior portfolio manager for the Private Equity Group and also worked in the Investment Banking Division in Media and Telecom.
Kiele received her BA from Yale, magna cum laude, with distinction in economics, and an MBA from Harvard Business School. Kiele is a Trustee of the Boards of the Wenner-Gren Foundation and St. Matthews Episcopal Day School and serves on the Finance Committee of the Board of Lucile Packard Children's Hospital Stanford.